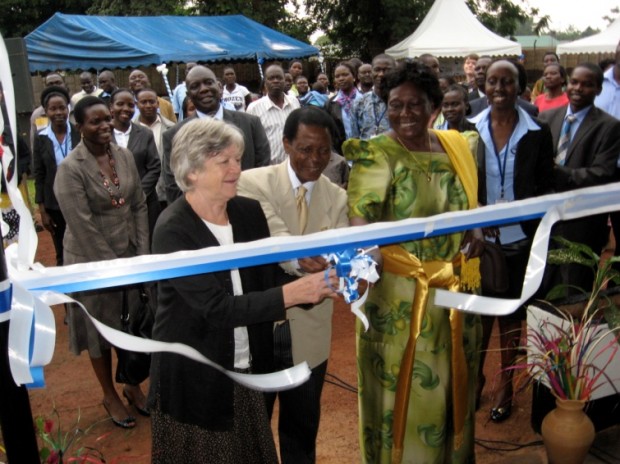 To celebrate JRP becoming an independent NGO and to officially launch the new organisation, we hosted a ceremony and reception on July 23 at our offices in Gulu's Senior Quarters. The event — which was attended by the Ambassador of Norway, H.E. Bjørg S. Leite, Hon. Norbert Mao, members of the community, civil society and government representatives, cultural leaders, and many more– was lively and eventful. Bwola dancers from Ker Kwaro Acholi kicked off the event by performing Acholi traditional dances. Brief remarks were made by:
Mr. Lino Ogora, Master of Ceremonies
Mr. Boniface Ojok, Programme Coordinator
Mr. Michael Otim, Board Chairman
H.E. Bjørg S. Leite, Ambassador of Norway, Guest of Honor
Mr. Geoffrey Okello, Gulu District NGO Forum
Dr. Erin Baines, Liu Institute for Global Issues
Delis Palacios, Adom in Quibdo, Chuco, Colombia
Leyner Palacios, Cocomacia in Quibdo, Chuco, Colombia
Hon. Justice Remmy Kasule, Resident Judge, High Court of Gulu
Hon. Santa Oketta, Gulu District Secretary for Community Development, Labor, Gender and Children
Hon. Norbert Mao, Gulu District LC V Chairman, Guest of Honor
Remarks from select speakers can be accessed here.
Further enriching the evening, a poem to remember our sisters who died in captivity and a statement on women's justice was read by women from our partner project with the Liu Institute for Global Issues, Ododo wa. After reading the statement, the women's group Rwot Lakica performed a drama on women's justice.
The evening concluded with dinner and a reception and performances by northern artistes Jeff Korondo and Jahria Okwera from the initiative Music for Peace.
The event allowed us to celebrate our past accomplishments, whilst marking the start of this new era for the Project. We would like to thank everyone who attended for sharing the special day with us.