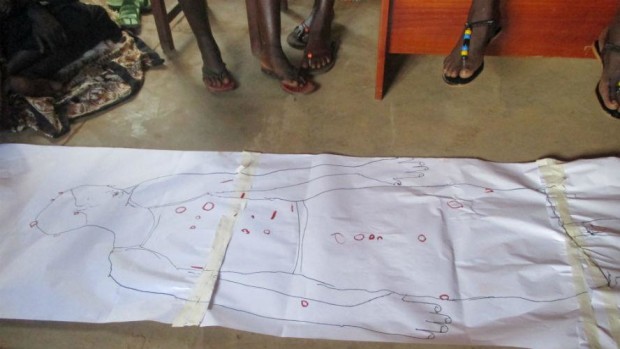 In northern Uganda during the long-standing conflicts, sexual violence was perpetrated against men and women, boys and girls at an unprecedented rate by state and non-state actors and civilians. Violence during the war included rape, forced marriage and pregnancy, sexual exploitation and sexual molestation by rebels. When there is conflict, survivors of sexual violence face a number of challenges, such as meaningful reintegration in the community, rejection and re-victimisation in the society. Others, on the other hand, experience physical, psychological and economic re-victimisation, such as marital abuse, rape, domestic violence, fear of the unknown, trauma and poverty.
After the incidents of sexual and gender-based violence (SGBV), women were left with children they bore. Many of the women do not know the whereabouts of the children's fathers. With no meaningful support from the local government, these women are left to care for their children singlehandedly. Lack of support for the children has been a cause of more psychosocial harm for the mothers who struggle daily to care for their children amidst social rejection, abuse, poverty, economic constraints, as well as other challenges.
There is an increase in domestic violence due to poverty, alcoholism and other war related factors. Survivors of SGBV encounter violence in their marriage. They are stigmatised by co-wives, in-laws and even husbands. Domestic violence evolves as a result of female barrenness due to rape and/or sexual molestation and HIV/AIDS contracted during war. Some survivors of SGBV are blamed for HIV in the marriage, especially if it is known that they contracted the disease after being raped. Some men blame the women for health issues they have contracted, even if it is not certain that they have been infected by their partners. For women who cannot give birth as result of complications that arose after the sexual violence, this is a source of re-victimisation, leading to violence and abuse in their homes.
According to research conducted by the Justice and Reconciliation Project (JRP) in 2015 ( the report is yet to published) with 103 female survivors of sexual and gender-based violence, because of the lack of social support, SGBV survivors rely on their own constructive/positive coping mechanisms to prevent and minimise chances of re-victimisation.
In the absence of social support, some survivors adopt negative coping mechanisms, such as abuse of alcohol and other substances. One of the women we interviewed stated that she was not an alcoholic before her abduction. However, after she returned from captivity, she became an alcoholic who would fight with her husband if he refused her alcohol. According to her, alcohol was her source of psychological consolation and a way of dealing with the stigma she faces.
Despite a number of programmes to support SGBV survivors, there are a number of challenges that impede survivors' access to redress and justice in the community. These challenges include systematic barriers, such as customary laws, the marginalised role of women in the community, poverty and complicated legal procedures. These challenges prevent women from obtaining justice and redress in the communities they live in. There is also a need to reinforce the principle of transitional justice to ensure a smooth reintegration process and redress for SGBV survivors into the community by providing reparations in order for them to have a better life.