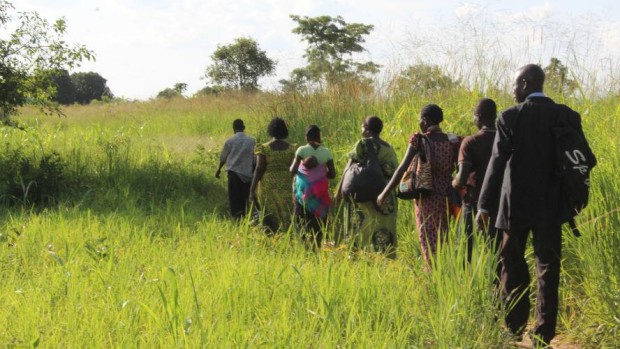 The two-decade war in northern Uganda was characterised by various forms of sexual violence against women, such as rape, sexual exploitation and forced marriage. Many children were born as a result of these crimes, and this has had a profound effect on women. Now that a relative peace has returned to the region, one of the ongoing reintegration challenges is dealing with the identity of the children who were born in captivity or a result of sexual violence. Many of their patrilineal ties are unknown. But in Acholi culture, like in many areas in Uganda, a child's identity is linked to his or her father. In addition, many of these children are now constantly asking their mothers and other family members about their identity and the whereabouts of their fathers.
The children find that not knowing their home is a painful aspect of their sense of identity. In Acholi culture, children are born into their paternal family and thus acquire the identity of that clan. Additionally, boys can expect to inherit land from their fathers in order to establish their own families. In Acholi culture, knowing one's "home" (paternal village) is an integral component of social belonging, according to a Justice and Reconciliation Project (JRP) field note on children born in captivity (2015). Family members are part of the child's well-being and therefore play an important role in reintegration. Family connections often provide comfort, key survival resources and a sense of belonging. This has made family reunions an important aspect of reintegration for children born in captivity and their mothers. Family reunions do not only help in reintegrating the children but also contribute to the reconciliation process in communities. Many families acknowledge that, according to cultural and social norms,children should know and have a relationship with their paternal lineage.
Convention on the Rights of the Child
According to research conducted since 2005 by JRP among women who were affected by war, the issue of children's identity is an important justice issue. When the Women's Advocacy Network (WAN) was formed in 2011, one of its objectives was to advocate the promotion and respect of the rights of children who were born during the war and/or born as a result of forced marriages involving women who had been abducted. Children's identity was one of the issues that WAN raised in a petition to the Ugandan parliament in 2014. The Convention on the Rights of the Child, which was adopted by the UN General Assembly in November 1989, states that a child should be cared for by his or her parents and that children should preserve their identity, including family relations.
Reuniting children with their paternal or maternal relatives is a way to rebuild life and relations after conflict for both women and children. Some of the reasons that women give for the importance of reuniting children with their families include pressure from children who have grown up and want to know their relatives, access to land for children born of war, supporting children born in captivity to get to know their relatives and thus avoid incest in future, obtaining family support for children born of war and supporting children born of war have a sense of belonging and identity.
Challenges of the reunion process
The family reunions are not always easy to arrange. One peculiar challenge in the reunion process has been use of pseudonyms by commanders. In addition, people who were abducted often concealed their real identities in order to protect their families from retaliation by the LRA for alleged "mistakes" that they had made. This has made it difficult, in some instances, to locate the homes or relatives of the children.
Since 2011, WAN and JRP have reintegrated numerous children with their paternal and maternal families. From January to July of 2016 alone, nine children were reunited with their paternal families. This has enabled children and their mothers to rebuild their lives. Families have also been able to reconcile for the sake of the children.
Nancy Apiyo is a project officer in the Gender Justice Department of the Justice and Reconciliation Project.
This article was originally published on Let's Talk, Uganda.